As of 2AM this morning, the Prairie Blanket is DONE! *insert thud of me hitting the floor unconscious here*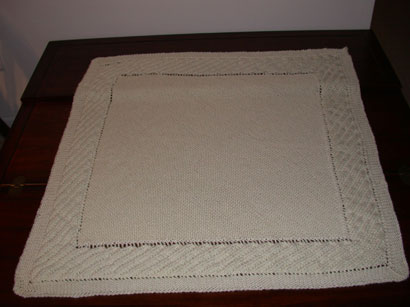 Completed Prairie Blanet
Final Stats
Finished Size: 39 inches by 39 inches
Needles: Addi Turbos sz US 8, 40 inches
Yarn: Caron Simply Soft in off white
Duration: April 14th to May 29th with some play for Mother's Day knitting thrown in. Lots of Firefly, CSI, Lost, and Doctor Who episodes went into this project, too.
Overall, this pattern got a little tedious, particularly around the miles and miles of garter stitch in the middle at the blanket's largest point. Hence, any of the wrong leaning decreases along the edging are considered a design feature. I didn't have the heart nor stamina to tink (un-knit) hundreds of stitches to fix one. Hey, it's a baby blanket; gourd knows what kind of stuff will wind up on it in the end. :) I loved the short row corner turns at the halfway point, very clever and entertaining part to knit. Much rejoicing was heard in our house last night when the right amount of stitches were on the needles after all the decreases for the middle. However, the whole blasted thing was almost thrown out the window a few minutes later after some rather fuzzy ending instructions. Or maybe that was just my level of exhaustion. The last 14 stitches took me around 45 minutes to finish properly. My hands felt dead by the end of it all; they got a nice warm soak after all that work. :) Word from the now wise, if you want to knit this pattern, use at LEAST a 40 inch circular needle. Any smaller size and the middle portion would have been uncomfortably crammed on the needles.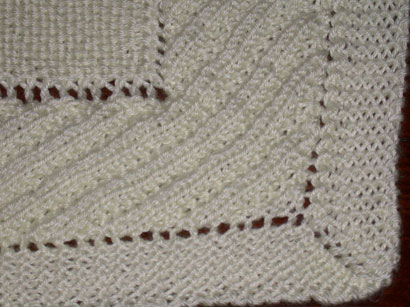 Close up of my favorite part, the short row corners.
No rest for the wicked, or the knitter. I cast on today for a Clapotis for me. Yummy colored Koigu on Crystal Palace bamboo US 4 needles. The Koigu is no where near the size (nor expense!!) of the recommended Lorna's Laces Lion and Lamb. It's intented to be a small lightweight wrap for me to toss over my shoulders this summer when the office air conditioning gets a bit too nippy for me.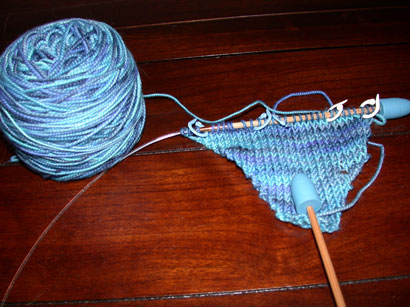 Start of my Clapotis